The answer is NO. At BWI, we are aware many customers reuse their FIBCs repeatedly, especially those working on a farm or construction site. However, this poses a dangerous risk as failed FIBCs can lead to major legal action against the handling party. For example, if you use a single trip bag multiple times and e package fails and hurts someone, you could be held liable for not following the handling instructions. This is like using a hammer with a loose head, it may do the job but you are at risk of having the head fly off, hurting yourself or someone else.
At BWI, we strongly discourage buying used bulk bags. They are a huge liability to your business and to anyone who handles or transports a used bag. We believe saving a few dollars is not worth jeopardizing the health and safety of your staff and customers, so we created a solution!
To promote safety and sustainability, BWI created a program where we recondition your used FIBCs at an affordable price. We have some conditions though! To repurpose your used bulk bags, there are minimum quantity rules, top lift tests are required, and they could not have previously contained hazardous materials.
FIBC Safety Factors
We have noticed the concerning trend of people reselling FIBCs without knowledge of what was previously stored in it, or the condition of the FIBC due to wear and improper storage. Standard FIBCs are manufactured to ISO 21898:2004 packaging — flexible intermediate bulk containers (FIBCs) for non-dangerous goods. There are three types of FIBCs with respective safety factors:
1. Heavy-duty reusable FIBC (Safety Factor 8:1)
2. Standard-duty reusable FIBC (Safety Factor 6:1)UN rated FIBCs used for the transportation of dangerous goods are always rated at standard-duty reusable (Safety Factor 6:1) or greater.
3. Single-trip FIBC (Safety Factor 5:1)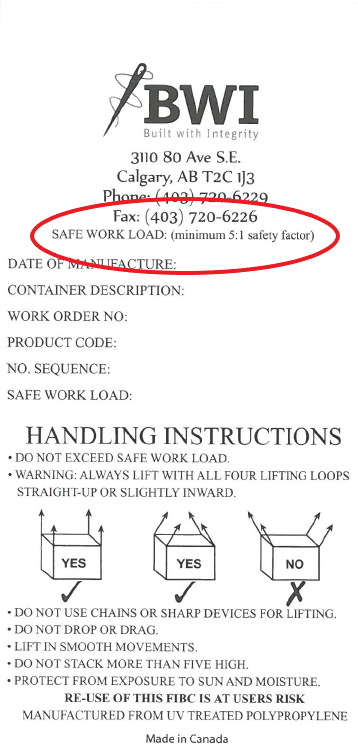 Closed Loop System
FIBCs should only be reused within a "Closed Loop" system. In this system, the FIBC is cleaned and reconditioned for reuse to handle the same product in the same application for which the FIBC was originally designed. A Closed Loop system usually involves the cooperation of the FIBC's original manufacturer, the customer, and the end user.
Safe Working Load (SWL)
Not only does the safety factor matter, but the safe working load (SWL)* amount as well. SWL is the amount of load (in pounds or kilograms) that a bag can carry. The design of the FIBC and its sewing method, combined with the strength of the fabric, determines the SWL. You can find the SWL printed on the manufacturing label.
*To note, while ISO 21898 refers to SWL, the term has been phased out and is no longer used to identify the maximum capacity of equipment due to it being too vague and leaving it open for legal issues. According to the U.S. and European standards, the term has now been replaced with Working Load Limit (WLL). You can find more information about this update here.
Our Recommendation
FIBCs should only be reused with a closed loop system according to the minimum requirements below:
Cleaning:
o Remove all foreign matter from the FIBCs interior.
o Ensure statically held dust is less than 4 ounces total.
o Replace liner if applicable.
Reconditioning:
o Replace web ties.
o Replace labels and tickets critical to safe FIBC use.
o Replace cord locks if necessary.
Reasons for rejecting a FIBC:
o Lift strap damage
o Contamination
o Damp, wet, mold
o Wood splinters
o Printing is smeared, faded or otherwise unreadable.
Tracking:
o The manufacturer should maintain a record of origin, product used in the FIBC and the quantity of uses or turns.
Testing:
o FIBCs should be randomly selected for top lift testing. The frequency and quantity should be determined by the manufacturer and/or user based on their specific situation.
o Test results should be maintained by the manufacturer for the minimum of three years.
o The top lift testing will be conducted per the latest version of the ISO 21898 standard.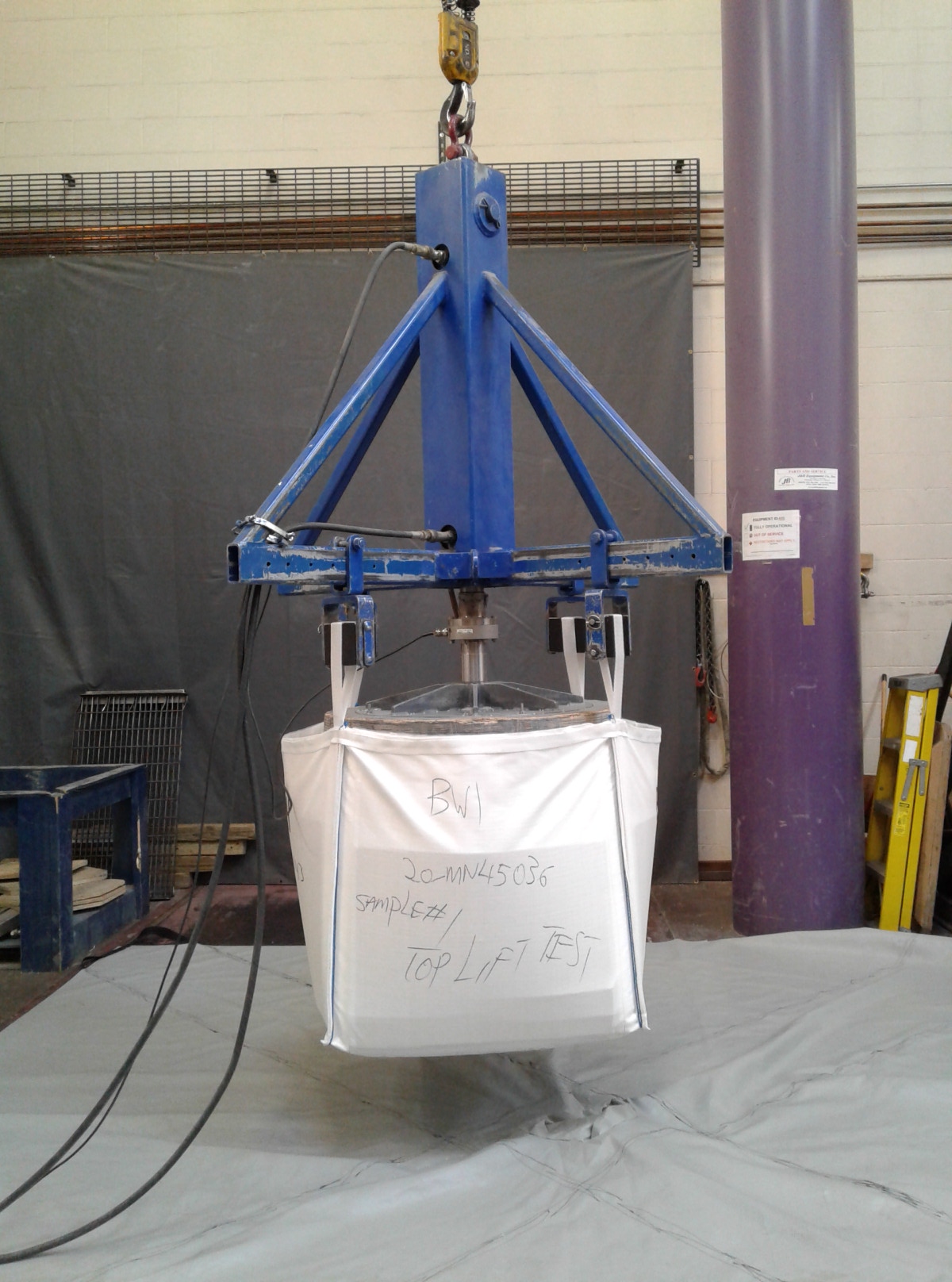 Thank you for reading!
At BWI, the safety of our customers is our top priority. Regardless of who you purchase FIBCs from, it is important to use your bulk bags with care and for its intended purposes. If you absolutely have to reuse your FIBC because your inner recycler is screaming "DO NOT THROW THIS OUT!" try out a few of these staff suggestions:
Use a coated FIBC to protect your outdoor furniture or BBQ.
Fill the bag with hay and turn it into an archery target.
Use for transporting light yard waste.

As the leading manufacturer in Canada since 2005, BWI can recommend the best package option for you! For more information, best practices, and product services, visit us at www.BWI-1.com.