BWI: Paving the Way for a Greener Tomorrow
At BWI, our planet's well-being is close to our heart. We're passionate about playing our part in ensuring a cleaner, greener future for the generations to come.
How are we making a difference?
Extend, Not End

: Through our repair and refurbishment services, we help you prolong the life of your products. After all, why replace when you can repair?

Local Love

: Our local manufacturing solutions mean fewer miles traveled, aiding you in shrinking your carbon footprint. Let's think local and act global together!

Second Chances

: We give offcut material a new lease of life by transforming them into practical items, like transport flags and product labels. Wasting less and repurposing more is the way forward! Manufacturing:
BWI is the last manufacturer of bulk bags in Canada, providing emergency fill-in orders during shipment delays. We manufacture packaging and covering solutions locally and in partnership with our network of overseas suppliers. Low Minimum Orders:

We offer low minimum order quantities for all packaging and covering products, including custom and printed products. Sustainable:
Meet your environmental and sustainability goals with BWI's local repair and refurbishment services. Reduce waste by repairing and reusing bags and tarps. Quality:
BWI Canadian operations are ISO 9001 Certified. We supply the highest quality products and adhere to a strict quality management system and international standards. 
BWI: Sustainable Packaging Solutions.
Wondering how our FIBCs (Flexible Intermediate Bulk Containers) or Bulk Bags can align with your commitment to a greener planet? Let's take a deep dive into how BWI can support your ESG (Environmental, Social, and Governance) goals:
Recycled and Remarkable

: FIBCs/Bulk Bags embrace sustainability by incorporating Post-Consumer Recycled (PCR) Plastics. In fact, you can find up to 30% recycled content (rPP) in some FIBCs. Making a difference, one bag at a time! 

Contact BWI today if you are interested in learning more about FIBCs manufactured using Post-Consumer Recycled (PCR) Plastics!
Guiding Your Green Journey

: With our Extended Producer Responsibilities (EPR) initiative, we're here to guide and support you. 

Do you consistently use FIBCs/Bulk Bags that need recycling? Do you know how your FIBCs/Bulk Bags are affected?  Are you a residential, industrial, commercial, or institutional user? We've got you covered! 

Contact BWI to learn more about FIBCs and ERP in Alberta and Canada.
Born to be Recycled

: FIBCs/Bulk Bags can be Designed for Recycling (DfR). This means: 

They champion the cause of flexible packaging circularity. We provide clear guidance so that FIBCs/Bulk Bags are not just used but also designed with recycling in mind. A win for you, and a win for our planet!

Examples of Designed for Recycling include:

100% mono-material (PP) design.

Without colored lift loops or fabric.
Without print.
Easily removable liner.
 Contact BWI today to see how we can work together to keep FIBCs / Bulk Bags out of the landfill!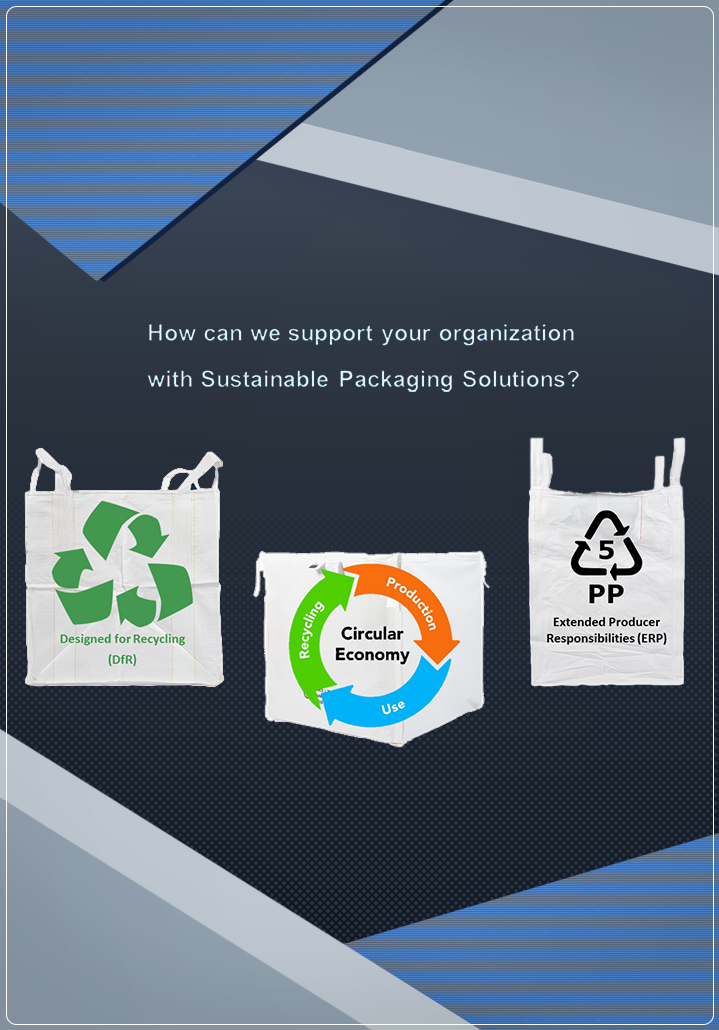 "We are committed to enhancing customer satisfaction by meeting agreed requirements and continually reviewing and improving effectiveness of the quality management system.
Quality objectives are monitored, measured and communicated to all employees ensuring their understanding and participation in achieving the stated goals."
– Quinn Cook, CEO / VP marketing
Contact us
Built with integrity is here to assist with custom solutions and product information. Email below or call us today at